Two-thirds on my way to Hamburg I got tired. I had already driven about 185 km since I left Berlin at 10pm. It didn't seem realistic to reach Hamburg that night. So I left the highway and drove around in the dark to find a place to sleep. Not that hard: a few minutes later, I parked on a dirt road in a forest near Neustadt-Glewe where I spent the first night of my trip.
Although I had gone to bed late, I woke up early at 7am and felt rested the next day. What a great feeling to wake up in a forest!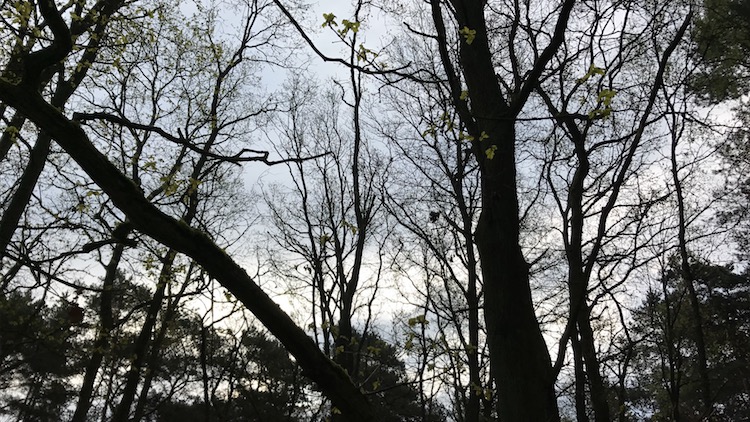 The trees were blocking the sun. Not ideal for my solar system. I drove a bit further and stopped about 80 km in front of Hamburg at a rest stop near Wittenburg. I've seen better views, but it was acceptable for my first working day in the van outside of Berlin: enough sunlight for charging the battery and free toilets close by.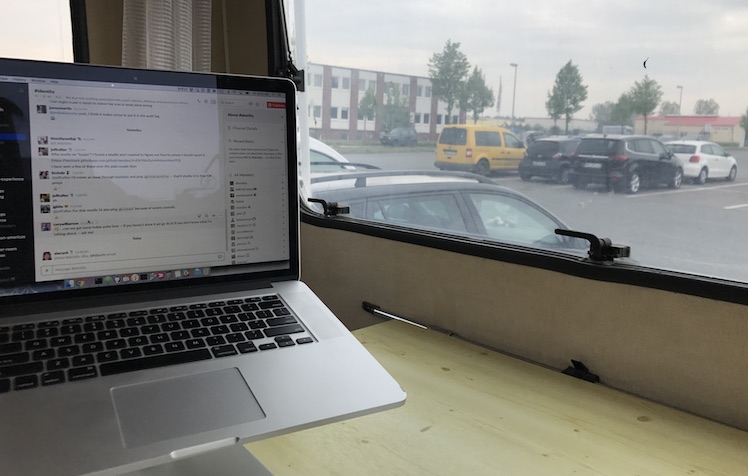 After work I drove further towards Hamburg. I enjoyed the relaxed ride on highway A24 while listening to music.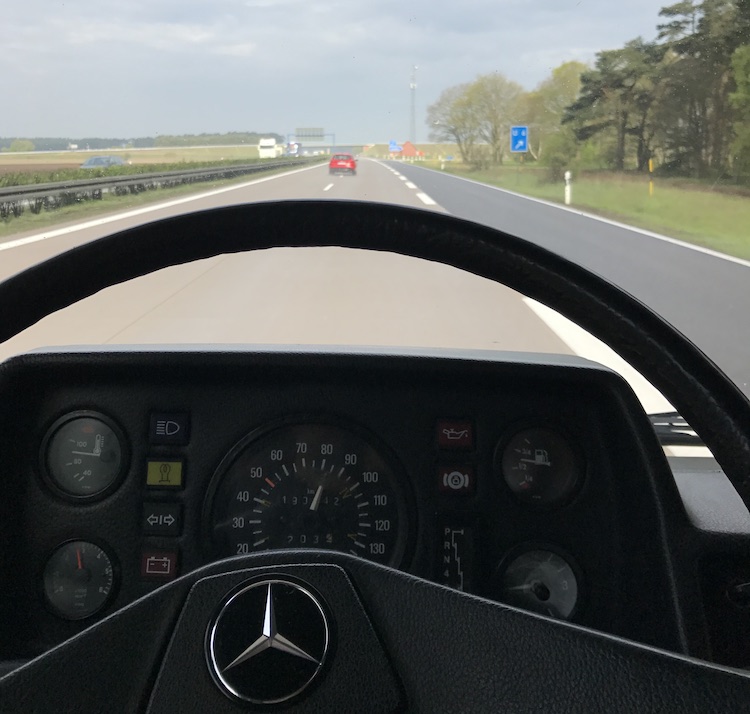 A view kilometers ahead of Hamburg I stopped for a quick pee break and called my friend to tell her that I'd arrive very soon. Right after leaving the rest stop, a police car passed my van. They showed me a sign to follow. Oh boy, let's hope everything is fine with the van!
It turned out that there was no need to worry about the van. They didn't care about the vehicle at all. They rather cared about the suspicious tattooed driver from Berlin.
"Are you on drugs?"
"Uhhm, no, I just stopped working and am driving to Hamburg."
"Ok, let's make sure you're telling the truth. Please pee into this cup!"
"I don't know if I can pee right now. I haven't drunken much water today and I peed just three minutes ago."
"Don't worry. You can always pee. We just need a little bit."
So I was holding this little plastic cup in front of my van, with the cop standing right next to me, to observe what I was doing. I felt relaxed because I knew there wasn't anything to worry about. Still I couldn't pee. I was totally empty. I closed my eyes and thought about the sea. Still no luck.
"Sorry, I really can't pee right now."
"Keep on trying, we have time!"
Fine, maybe they had time, but I didn't! My friend was waiting in Hamburg. So I kept on trying. 10 minutes passed… 20 minutes passed… 30 minutes passed… 40 minutes passed. Seriously?!?
"Sorry, it really doesn't work! Can't we take some blood or something like that?"
"Ok, let's do some other tests."
So we spent another 10 minutes doing some stupid exercises: standing on one foot, estimating the duration of one minute while my eyes were closed and other weird things. I started to lose my patience: I was late, my friend was waiting and I wasted my time with two police officers who probably cost our state several Euros a minute. Total bullshit!
"Hmm, ok. You can continue your ride."
"Thank you, officer! Here is your cup."
"Oh, you can keep it. Drive safely!"
Finally! What a waste of time! But at least I have a new cup. Perfect camping equipment!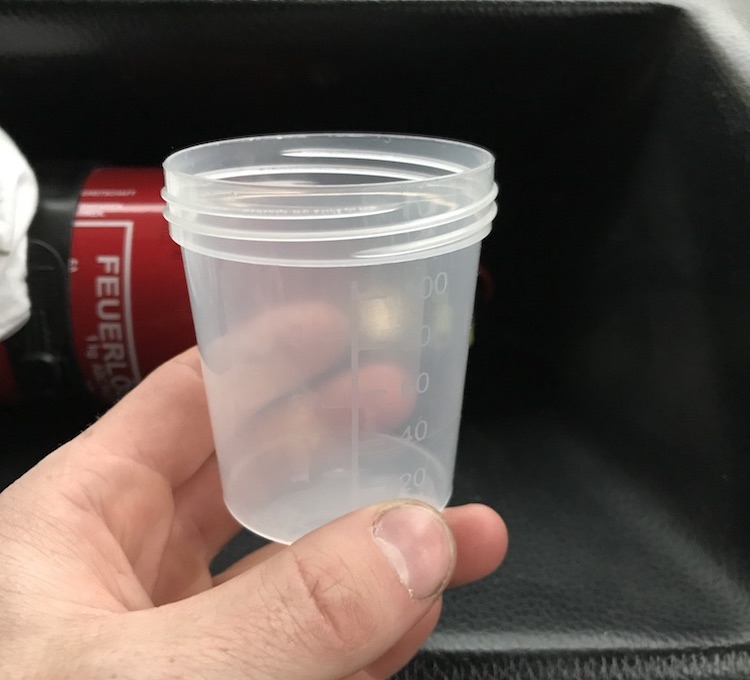 I called my friend again and a few minutes later, we finally met up and spent a great Friday night in Hamburg's bars.


---
---